Energean plc: First gas from Karish
Energean plc (LSE: ENOG, TASE: אנאג) is pleased to confirm that first gas has been safely delivered at the Karish field, offshore Israel.
Highlights
First gas has been achieved on the Karish project
Gas is being produced from the Karish Main-02 well and the flow of gas is being steadily ramped up
Preparation for transmission through the gas sales pipeline is progressing and gas sales to Energean's customers are expected to commence in the next couple of days
Karish Main-01 and Karish Main-03 wells are expected to be opened up in approximately two and four weeks, respectively
The Energean Power FPSO and the sales gas pipeline have an ultimate capacity of 8 bcm/yr. The initial capacity is up to 6.5 bcm/yr, and commercial gas sales are expected to reach this level approximately four to six months following first gas. Energean's growth projects – the Karish North development, the second oil train and the second export riser – are on track for completion in late 2023, following which Energean will be able to produce to the full 8 bcm/yr capacity of its infrastructure.
Mathios Rigas, Chief Executive Officer of Energean, commented:
"I am delighted to confirm that Energean has reached first gas at the Karish field, offshore Israel.

"We have delivered a landmark project that brings competition to the Israeli gas market, enhances security of energy supply in the East Med region and brings affordable and clean energy that will displace coal-fired power generation, making a material impact to the environment.

"We are committed to reach our medium-term targets of 200 kboed production and $1.75 billion of annualised EBITDAX and the delivery of the Karish project is a major milestone towards this goal. We are now focused on ramping up production and delivering the full 8 bcm capacity through our expansion project to the Energean Power FPSO."
Kerogen Capital Invests in Enervee, the Leading Energy Efficiency e-marketplace Platform
Kerogen Capital ("Kerogen") is pleased to announce the completion of its US$30 million investment in Enervee Corporation ("Enervee") as part of a US$35 million capital injection together with JP Morgan Chase.
Energy efficiency, representing more than 40% of emissions abatement needed by 2040, is one of the most important drivers for global decarbonisation. In addition, Scope 3 emissions largely related to use and consumption has historically been a difficult area for the energy industry to influence.
Founded in 2010, Enervee provides an integrated platform for electric and gas utilities to cost-effectively achieve their energy efficiency and decarbonization targets. Enervee serves over 20 utilities in the US accessing over 40 million households – representing one-third of total US households. Furthermore, Kerogen aims to assist Enervee in entering European and Asian markets.
Enervee combines data science, behavioural science, e-commerce and consumer finance to assist utility customers to effect better energy-related purchases across more than 70,000 consumer products. In 2021 Enervee reached 3.4 million e-commerce sessions.
Proceeds from the investment will be applied towards expanding the team and product offerings as well as entry into new markets. Post-investment, Kerogen will have a representative on the Board of Enervee.
Kerogen's CEO and Managing Partner, Jason Cheng, commented:
Energy efficiency is amongst the fastest and most cost-effective means to reducing global CO2 emissions. We continue to see strong regulatory support and global decarbonization tailwinds. We are thrilled to partner with a leader like Enervee as it continues to define this new category of energy efficiency e-commerce for its leading utility and residential customers.
Enervee's CEO & co-founder, Matthias Kurwig, commented:
We are thrilled to partner and collaborate with Kerogen to respond to increasing market demand, accelerate key hiring and enter into new markets & product categories to reduce residential energy consumption and carbon emissions.
Pandion Energy acquires the operations of ONE-Dyas in Norway with an outlook to more than double daily production
Pandion Energy has signed an agreement with ONE-Dyas Holdings B.V. to acquire ONE-Dyas Norge AS. The transaction includes a 10 percent share of the Nova field and a total of 11 exploration licenses.
The Nova field is expected to start production in the second half of 2022. The field, located in the northern part of the North Sea, is being developed with two subsea templates tied back to the existing Gjøa platform. Nova (previously Skarfjell) was discovered in 2012 and the plan for development and operation (PDO) was approved in 2018. The use of existing infrastructure enables effective extraction of the resources and Nova will be sustainably operated with hydro power from shore through Gjøa.
CEO of Pandion Energy, Jan Christian Ellefsen stated the following:
This transaction represents a new leap in the Pandion story and secures the foundation for further growth. Our asset base is strengthened and, with Nova on stream, our daily production will more than double.

During the first five years, Pandion Energy has earned its reputation as a trusted partner in exploration and field development on the Norwegian Continental Shelf (NCS). ONE-Dyas Norge fits well with our existing portfolio and organisation and will strengthen our position as an active, full-cycle partner driving value in high-quality assets on the NCS.
Through its 10 percent ownership in the Valhall and Hod fields, Pandion Energy currently produces over 5,000 barrels of oil equivalent per day, set to increase further as the new Hod B platform comes on stream in 2022. The Valhall area has been fully electrified from shore since 2013. The combined Valhall and Nova production will, in line with Pandion Energy's Net Zero Carbon strategy, have among the lowest CO2 intensity levels on the NCS.
Jan Christian Ellefsen further points out that Pandion Energy has long indicated plans for further expansion on the Norwegian Continental Shelf:
M&A activity on the NCS was slow during the first half of 2021, but more opportunities started to occur as we approached 2022. We are still actively searching for and evaluating additional opportunities to further grow our portfolio.
The transaction is subject to customary conditions for completion, including but not limited to approval by the Norwegian Ministry of Petroleum and Energy.
For more information: Pandion announcement
Kerogen Capital's Investment in EcoCeres, Inc., an advanced biorefinery platform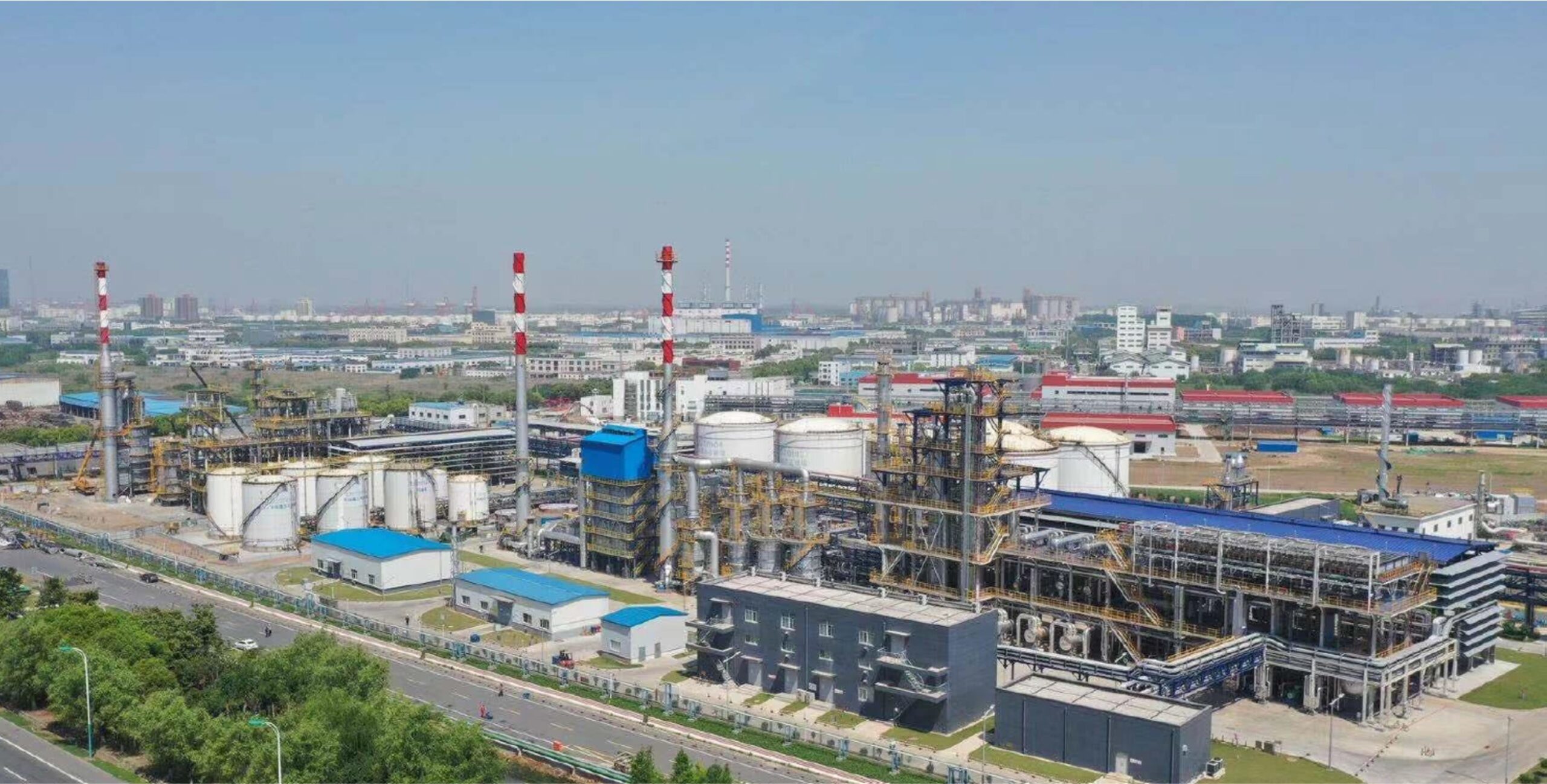 EcoCeres HVO Plant
Kerogen Capital ("Kerogen") is pleased to announce the completion of its US$108 million investment in EcoCeres, Inc. ("EcoCeres" or the "Company").
EcoCeres is an advanced biorefinery platform that has developed proprietary technologies to convert waste-base biomass into a spectrum of high-value products with an important decarbonisation impact. The Company is one of the leading renewable fuel producers globally, with industrial scale production capacity in hydro-treated vegetable oil ("HVO", a drop-in substitute for diesel) and sustainable aviation fuel ("SAF", a substitute for jet fuel) to supply primarily the EU markets under RED II (the Renewable Energy Directive II). The Company has also commenced pilot production of cellulosic ethanol (a substitute for gasoline) as well as other bio-chemicals and bio-materials using agricultural waste feedstock.
Proceeds from the investment will be applied towards expanding production capacity at EcoCeres's renewable fuels division, commercialising industrial-scale production of renewable chemicals and materials, and ongoing R&D activities including green hydrogen and other value-added downstream products.
Kerogen's investment represents EcoCeres's first external equity raise since its inception. Post investment, Kerogen holds a minority shareholding with representation on the Board and commences a strategic partnership with the Company's majority shareholder, The Hong Kong & China Gas Company ("Towngas"). Towngas is a leading natural gas distributor in Greater China and is listed on the Stock Exchange of Hong Kong with a market capitalisation of US$29 billion*.
Kerogen's CEO and Managing Partner, Jason Cheng, commented:
We are very excited to invest in EcoCeres as part of the drive towards global decarbonisation. As a specialist energy private equity investor, our philosophy is to add value beyond capital. We look forward to partnering with Towngas and the EcoCeres team in their journey to becoming a global leader in renewable fuels and circular technologies and solutions.
 EcoCeres's CEO, Philip Siu, commented:
EcoCeres has evolved as a result of Towngas' foresight to expand the scope of its business with an emphasis on sustainability. Today we are delighted to welcome Kerogen, who shares the same vision and values as EcoCeres, to be our strategic partner. We look forward to a fruitful collaboration with Kerogen in our strive for renewable solutions much needed by the world to attain carbon neutrality.
*As at February 18, 2022.
BW Ideol secures close to 1GW worth of floating offshore wind acreage in ScotWind leasing round
BW Ideol AS, a global leader in floating offshore wind, is pleased to announce that the Floating Energy Allyance has secured the rights to develop a floating offshore wind farm with an approximate capacity of 1GW off the northeast coast of Scotland through Crown Estate Scotland's ScotWind leasing round, which concluded today (Monday 17 January).
The 'option agreement' is for the area designated NE8 in the Scottish Government's Sectoral Marine Plan for Offshore Wind, which is located some 75km to the northeast of Fraserburgh on the Aberdeenshire coast. 
The Allyance is a development partnership comprising BayWa r.e., a global renewable energy business with UK offices in Glasgow and Edinburgh, Elicio, an experienced Belgian offshore wind developer, owner and operator, and BW Ideol, a proven floating technology leader and international floating wind project co-developer. 
The Allyance will now seek to re-engage with key stakeholders, step up environmental surveys and progress further work on design as it moves towards developing detailed proposals for the project ahead of applying for consent. 
FEA expects to enter into an Option Lease Agreement with CES by April 2022. 
BW Ideol has signed with FEA an engineering service agreement and a technology licence agreement on January 14, 2022, securing revenues for BW Ideol in relation to the project over the coming years.
Paul de la Gueriviere, CEO of BW Ideol, said: "This award underlines the pertinence of our co-development model and shows once again how BW Ideol's unique value proposition contributes to a winning and differentiating bid. We strongly believe that a credible execution and industrialization plan, accurate cost assumptions, a proven and bankable technology, and the option to manufacture our concrete floating foundations locally will contribute to our project's successful execution. 

 "We will continue with our plans to create a manufacturing hub in the north of Scotland as illustrated by the strategic partnership agreement signed between BW Ideol and the Port of Ardersier in September 2021, and more generally to work to engage with the wider Scottish supply chain."